UTHKAL (Odisha):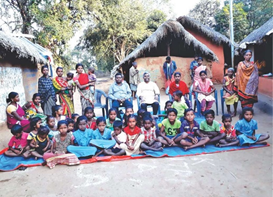 The Utkal Mar Thoma Project was started in the year 2012 inspired by Adv. P. A Cyrus who motivated the members of Abu Dhabi Parish Mission to start hostels in Odisha. By the grace of God, we have completed 7 years of ministry in the Nabarangpur District. The focus of the project is educational activities for the development of deserving children. During the reporting year we had 40 girls and 12 boys in our hostel studying from 2nd to10th std. The hostel is registered with government under the Juvenile Justice (Care & Protection of Children) Act, 2015. The project family comprises of Director's family, 3 wardens, 5 teachers, 1 cook, 1 security and 3 caretakers.
Hostel Activities:
Our hostel children continue to be the best performers at school as well as extracurricular activities at district level competitions, winning several prizes. Regular tuition classes were provided for the educational development. Various cultural, personalitydevelopment and sports activities were conducted during the year for the holistic development of the children. Three medical camps were conducted during the year. Dr. Tejus Varghese and Kalahandi Medical teamgave leadership for one camp, one was led by Dr. Philip John from St Luke's hospital Malkangiri and one camp was conducted by the government health department. Daily morning and evening prayers and Sunday worship was conducted for the Spiritual development of the Children. We also conducted VBS for the first time for our children, with the theme "Transformers" led by Rev. Sajo Thomas, Noble Varghese, Deepthimol and Goliath Pradhan of Kalinga Mission. All our children attended the VBS and it was a great time of learning and motivation for them.Children's Parliament was constituted at our hostel for enabling the children to take participation in the planning and daily functioning of the hostel activities. Members from Child Welfare Committee and District Child Protection Unit visited our hostel and extended the required guidance and support.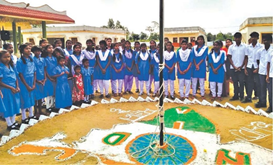 Village Activities:
During the year we started Children's Day Care Programme at two villages namely Kobaguda and Torapadar. The programme is attended by 103 children studying from 1st to 5th standard. Special programme is conducted for 30 tiny tots ofKobaguda village by us at the government Anganwadi Centre. The programmes aims to inculcate an interest to education in the minds of children and parents. We distributed suitable winter cloths to widows in the nearby villages, as part of the Christmas celebrations at the hostel.
Rev. Jacob K. Samuel
Director