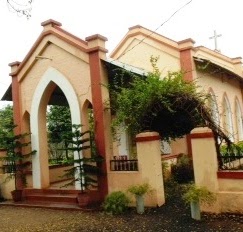 Christa panthi ashram is the only Ashram of Mar Thoma Church in North India. At present there are 17 permanent members in the Ashram.
Evangelistic works:
All our activities are centred on to spread the amazing love of God to those who do not know it. 8 evangelists of Mar Thoma Evangelistic Association are engaged in evangelistic works in villages. This year we appointed Mr. Phool Singh, a native of Sara Tolly, a tribal to look after the spiritual needs of the faith community there.
Easow Mar Timotheos Centre for Evangelism and Rural Development:
This year 8 students from different states of India are undergoing training in this Centre.
Pastoral works:
Sihora, Katni and Singrauli parishes are under the charge of Ashram Achens.
Medical works:
Dr. Vivin Daniel Sam has been serving the Ashram Hospital from and Currently the Out Patient Department is in operation.
Educational ministry:
Nursery school at Sihora town, five Balawadis at different villages are functioning well. Mar Thoma Gram Jyoti higher secondary schools (English and Hindi medium), middle schools in Talad and Umariapan villages are functioning well. The school and development works at Bhattia tribal village is being supported by the family members of Late Rev. M. P. Mathew.
Weaving Centre:
Weaving centre at Imlapura tribal mohalla is mainly working for the upliftment of tribal women. This centre produces shoulder bags, bed sheets, & mufflers.
Tribal Hostels:
There are 16 boys and 15 girls from different remote villages staying and attending our schools and government schools.
Shanti Bhavan and care for the Aged Project:
At present there are 7 inmates in our Mandiram. There are hundreds of aged and physically challenged people who are getting food grains, medical assistance under this project.