St. Thomas English Medium High School, Jaisingh Nagar:
Affiliated to CBSE, Affiliation No: 1031092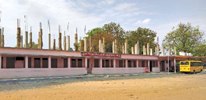 The St. Thomas English Medium High School, traces its roots to the ever widening horizons of the vision of the Mar Thoma Church to nature the knowledge thirsty and under developed, remote areas of North India through the project "Gramjyoti" a school in each village. Beginning small, the dreams were realized phase after phase, supported locally, inspired globally. We are attributing all growth and success to the priests, pioneering missionaries, dedicated teachers and critically constructive community of guardians. By addressing issues of remoteness and believing in a system of continual evaluation and appraisal, the school as indeed grown from Nursery to 10th.
Academics:
We had a glorious and praise worthy growth in our school this year. We have 390 students, 1 counselor, 14 contractual teachers, 4 visiting teachers and 4 non-teaching staff. This year we conducted monthly class tests, quarterly exam and half yearly exam, annual exam respectively. Parents interaction with Principal and teachers was held on every open result day. Our first 10th class all students passed out with 'first division' in Madhya Pradesh Board exam academic year 2015-16. We got 100% success this year. We, as the school congratulate these students and wish and pray for them to get good future.
Chairman and Principal:
In the reporting year our school got new face through the leadership and guidance of our new Chairman Rt. Rev. Dr. Gregorios Mar Stephanos Episcopa. Thirumeni visited our school twice this year and gave new ideas and creative development models for our school.
This year our school got first resident principal, Rev. Soju M.Thomas took charge as the administrator and principal of the school from 1st November 2017. His leadership and creativity made new level for our school.
Merit Award Ceremony:
Singaroli Mar Thoma Church sponsored a merit award of Rs.10,000/- for the student who secured highest mark in 10th Board Exam 2016. This award had been awarded to Miss. Sweta Tiwari by our school Patron and Chiarman Rt. Rev. Greegarious Mar Stephanos Episcopa on a special ceremony conducted on 31st September, 2016.
Sports and Games:
Our students participated in the Gram Jyoti Olympiad organized at the Christa Jyoti Mission Higher Secondary School, Beohari on 30th of September, 2016 to 1st October, 2016 and our school had been awarded first prize for the best March Past team. Our Student Kum. Anjali Singh Marko got junior category individual championship also. Our four dance group performed well in the 'Kala Sandhya' of this year's Olympiad.
This year we had conducted our Annual Sports Day in the name of "STEM'S TECH-2017" from 25th to 27th of January, 2017. We are specially congratulating all those participants.
Celebrations:
We had celebrated Independence Day and Republic Day in the school, and participated in government program conducted in excellence school. Our march past team got first prize in Independence Day and second prize in Republic Day in government program. Along with Children's Day celebration we had conducted Arts & Science Exhibition cum competition, and winners were awarded during the annual function. Also we celebrated Teachers Day in school. As part of Christmas celebratio we had given Christmas cakes to all our staff as a small gift to their family.
Exam Management Class and exam preparation:
We had arranged an exam preparation and management class for our 10th class children. The class led by our Principal Rev. Soju M. Thomas and it helped much our children to prepare for the board exam.
Also we had arranged exam preparation special classes during the study leaves, Rev. Soju M Thomas, Mr. Ginu Thomas and Mr. Anish Thomas took leadership for the same. And it helped our children a lot for their exam preparations.
Rev. Jubin Varghese
Administrator